What's a mountain hut?
WHAT'S A MOUNTAIN HUT?
everything you need to know before experiencing a hut-to-hut hiking holiday
A BIT OF HISTORY: THE ORIGIN OF MOUNTAIN HUTS
Mountain huts have a legendary centuries-old history behind them. It all began in the mid-nineteenth century when the practice of mountaineering was born thanks to the spread of the discipline among young people of the Anglo-Saxon nobility and upper middle class.
At the time, there were no driveways or facilities to reach the base of a mountain and to get to it long hikes were required. To obviate the needs of the first mountaineers, a series of simple accommodation services were developed. This was one of the main goals to be pursued by the Italian Alpine Club at the time of its birth in 1863. To date, the Italian Alps hosts a thousand huts.
During these 150 years, however, many things have changed and the role of huts has adapted to the passage of time.
THE EVOLUTION OF MOUNTAIN HUTS
The increasing demand for mountain holidays during the second half of the 1900s contributed to the realization of important infrastructures. These made several huts easily accessible, changing their role from "base camps" for mountaineers to popular restaurants and hotels that can accommodate a much larger number of people.
The phenomenon affected a big portion of mountain lands but obviously not all of them, with the most immediate consequence being the divergence of the functions performed and the interests between huts that became accessible and those still linked to their original role.
HUTS OPENING AND CLOSING DATES
Most of the huts open for about 3 months, from June 20 to September 20.
However, there are exceptions. Huts on the simplest and most popular routes are open until mid-October, thus allowing hikers to experience a high altitude adventure even in autumn, when weather conditions are good.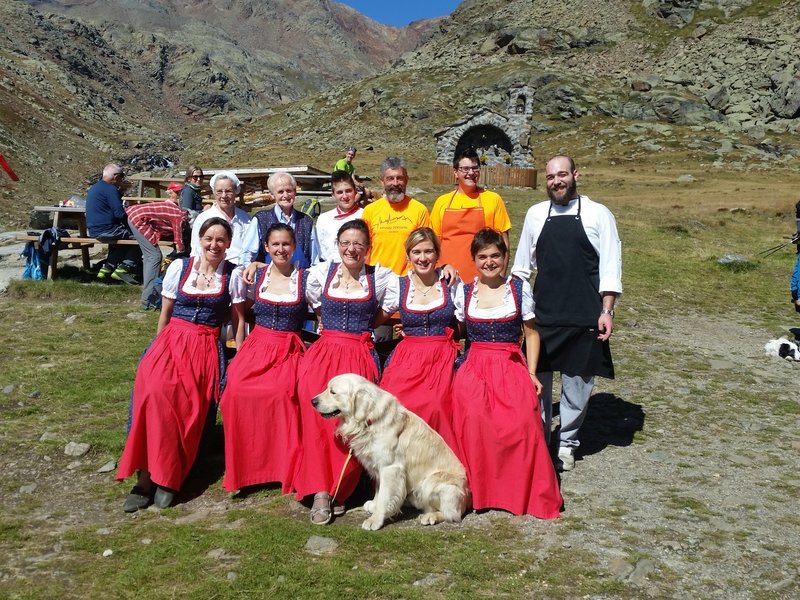 OVERNIGHT STAY IN A HUT
Staying in an alpine hut remains a magical experience and it certainly is the best way to discover mountains during your self-guided hiking tour.
Alpine huts almost always have dormitories with six / eight beds or more, although there is no shortage of huts where the possibility of staying in a private room is guaranteed based on availability. The bathroom is shared.
In both dormitory and private room you will be provided with mattress, sheets and pillows. However, it is necessary to travel with a light sleeping bag, a towel and accessories for personal hygiene as these are not provided. Other accessories that cannot be missing are a pair of clean light shoes to wear inside the hut and cash to cover the extras that are not included in our booking.
Are you afraid of forgetting something for your hiking holiday? Do not fear! Upon confirmation of your experience, Campo Base will send you a detailed gear list with all the necessary equipment.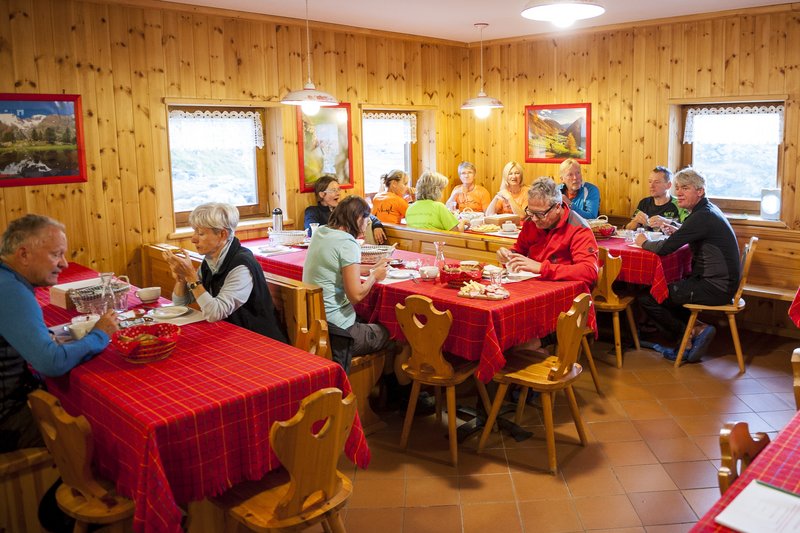 MEALS IN MOUNTAIN HUTS
Before going to bed you live the most important ritual of staying in a hut: dinner. This is served with a set menu, giving you the opportunity to choose between the dishes of the day, and represents the spirit of hospitality and mountain conviviality like no other experience. Between one course and another, hikers share their passion for mountains and the discussion almost always is about the excursions undertaken and the one planned for the following day.
After dinner, it is time to go to bed looking forward to the early alarm clock of the day after, so to take advantage of the first, fresh morning hours, which are the best to hike.
Leaving hut is preceded by a great breakfast, with the possibility of choosing between sweet and salty breakfast. In case of uncertain weather in the morning, hut managers are always ready to provide you with the best tips how to prepare yourself to safely face the hiking day.
Breakfast and dinner at huts are always included in our reservation. Lunch depends on what you prefer and the hiking itinerary of the day. You can choose whether purchasing a packed lunch in the morning or having lunch break in another hut long the way. Anyways, it is always suggested to have a snack and a couple litters of water with you during a hut-to-hut excursion.
TIPS FOR THE SMART ALPINIST
"Planet hut" is very away from our daily routine and it requires an elastic and smart approach.
Here our smart tips for your overnight staying at huts:
NO HIKING BOOTS TO THE FLOORS!
It is very important to take off your boots at the hut entrance in order not to dirty after a day walking on soil, stones and mud.
WATER AND ELECTRICITY SUPPLIES
When staying in a hut, every action is very precious. Water and electricity are goods to use only when it is really necessary. Always remember not to leave lights on and not let water flowing while you are not using it.
WASTE
Throw out waste is very expensive for alpine huts, and for environment too! The only way to bring waste downhill to the valley floor often is by helicopter, which makes really important to bring your own garbage with you when hiking at high altitude.